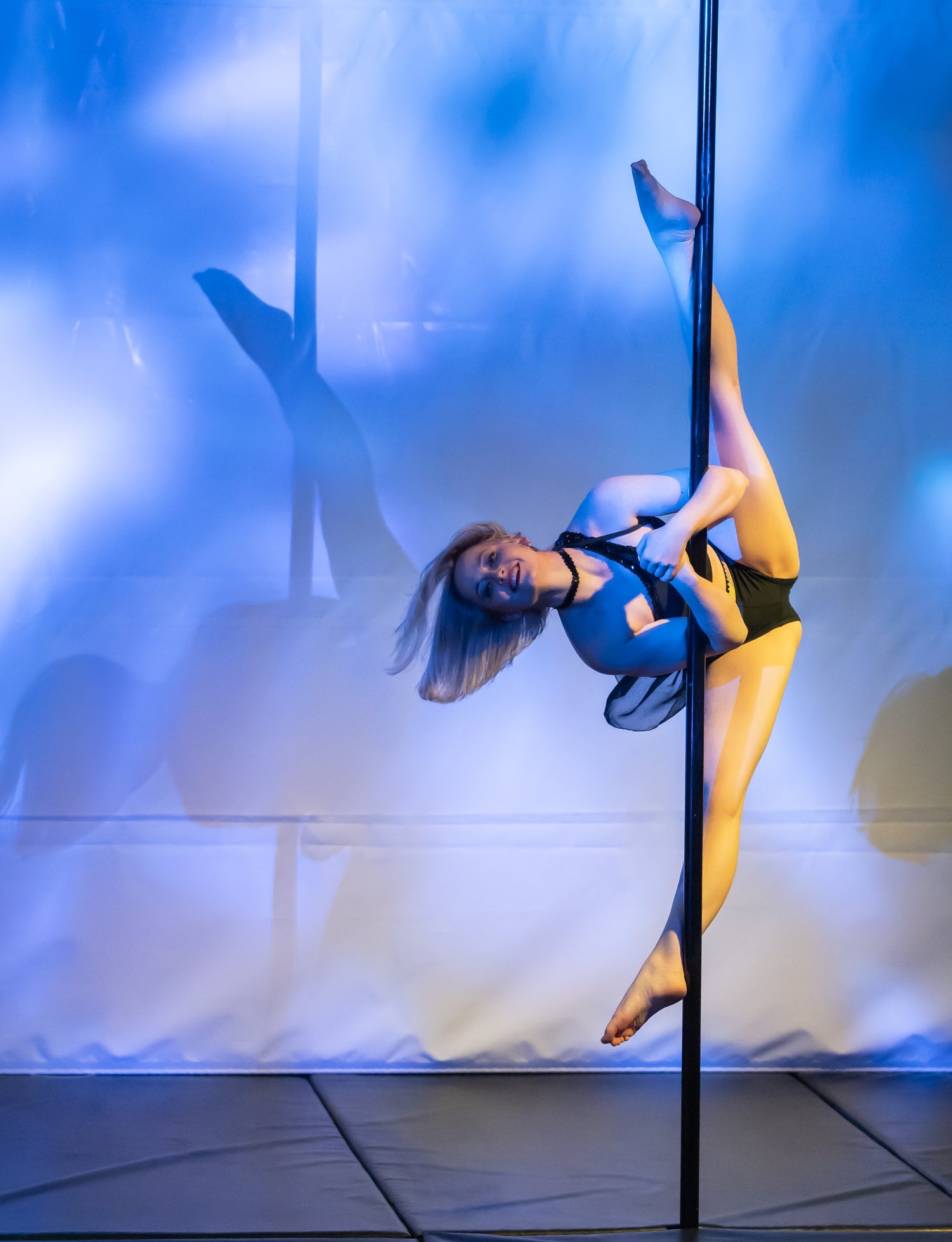 Acro Pole
This category is unique as it offers a side to pole where strength, stamina, flexibility and control are the key elements to your routine. The focus is on technique and execusion of elements, moves and transitions chosen from a code of points
Enter Now
Category Requirements:
Pole combos on both static and spinning poles are required in combination with floor tumbling, balance and poses between the poles. Tumbling can include cartwheels, handstands, forward rolls, splits, back flips etc. to travel from one pole to the next. No acting or dancing is
necessary in this category.
Male & Female Divisions: Bronze, Silver, Gold Novice (age 8 -12) Junior (age 13-17) Senior (age 18+)
ACRO DIVISION 1: BRONZE
*3 pole strength moves – must be held with control (SM)  
*3 pole flexibility moves – must be held with control (FM) *1 Static spin - min 360⁰ Rotation or requirement as per APAC code of points) (STS)
*1 Spinning pole spin - 720⁰ Rotation (SPS)    
*1 hand grip change (HGC)
*2 Dynamic Pole Moves (DPM)
2 floor tumbling/acro combinations sequences *2 dynamic floor moves (DFM)  
*1 Floor strength move – must be held with control (FSM) *1 Floor flexibility move – must be held with control (FFM)
Select Strength moves with a point value between 1 & 5
Select Flexibility moves with a point value between 1 & 5
Select Static pole spin with a point value between 1 & 4
Select Spinning pole spin with a point value of 1 & 5
*all compulsory requirements with * must appear on compulsory score card in the order they occur in your routine with the move value stipulated
ACRO DIVISION 2: SILVER
Routine 3min to 3min45 minutes in length
Minimum of 2 x spinning pole combination
(minimum of 2 transitions from 1 move/element to another on the pole without having floor contact)
Minimum of 2 x static pole combination
(minimum of 2 transitions from 1 move/element to another, on the pole without having floor contact)
*1 Dead lift from the floor or aerial (DL)
*3 pole strength moves – must be held with control (SM)
*3 pole flexibility moves – must be held with control (FM)
*1 Static spin - min 360⁰ Rotation or requirement as per APAC code of points) (STS)
*1 Spinning pole spin - 720⁰ Rotation (SPS)
*1 Drop (D)
*2 hand grip changes (HGC) OR 1 hand grip change & 1 Acrobatic catch (AC)
*2 Dynamic Pole Moves (DPM)
2 floor tumbling/acro combinations sequences
*2 dynamic floor moves (DFM)
*2 Floor strength move – must be held with control (FSM)
*2 Floor flexibility move – must be held with
control (FFM)
Select Strength moves with a point value between 3 & 7
Select Flexibility moves with a point value between 3 & 7         
Select Static pole spin with a point value between 3 & 6
Select Spinning pole spin with a point value of 3 & 6
*all compulsory requirements with * must appear on compulsory score card in the order they occur in your routine with the move value stipulated
ACRO DIVISION 3:  GOLD
Routine 3 min 40 to 4 minutes in length
Minimum of 3 x spinning pole combination
(minimum of 2 sequential transitions from 1 move/element to another on the pole
without having floor contact)
Minimum of 3 x static pole combination
(minimum of 2 sequential transitions in a row from 1 move/element to another,
on the pole without having floor contact)
*1 Aerial Dead lift (DL)
*3 pole strength moves – must be held with control (SM)
*3 pole flexibility moves – must be held with control (FM)
*1 Static spin - min 360⁰ Rotation or requirement
as per APAC code of points) (STS)
*1 Spinning pole spin - 720⁰ Rotation (SPS)
*1 Drop (D)
*1 hand grip change (HGC)
* 1 regrip change
*1 Acrobatic catch (AC)
*3 Dynamic Pole Moves (DPM)
3 floor tumbling/acro combinations sequences
*3 dynamic floor moves (DFM)
*3 Floor strength move – must be held with control (FSM)
*3 Floor flexibility move – must be held with control (FFM)
Select Strength moves with a point value between 6 and 10
Select Flexibility moves with a point value between 6 & 10                     
Select Static pole spin with a point value between 6 & 10
Select Spinning pole spin with a point value of 6 & 10
*all compulsory requirements with * must appear on compulsory score card in the order they occur in your routine with the move value stipulated